Shanghai…finally…I'm back again in this city I've lived in for 2,5 years. I've longed to see Shanghai again. And now that I'm back I have the odd feeling of not having been away too long. Maybe that's due to wrong expectations: Friends said Shanghai has changed dramatically. So I had expected not to recognize much any longer. But in my eyes it's not that bad: While there definitely is a lot of changes these changes are "under the hood" (actually mostly underground ;)). True…there are certainly some new buildings, but I don't see them as a radical change: There had been a lot of high rises. And now there are a few more.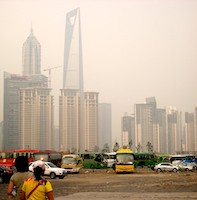 Other changes are probably more obvious: Definitely the number of subway lines. While in 2004-07 I had the choice between 3 lines (with a 4th one being constructed) there are now no less than 12 metro lines. (It depends a bit which internet source you tend to believe…seems that Shanghai starts loosing its count on metro lines already like it long did on inhabitants.) But beware…line 10, as convenient as it is located, runs until 16:30 only. Nobody could yet tell me why.
And only visible for returning visitors: The subway station are cleaner, which especially means: Less (next to no) stalls selling everything from snacks to phones. And don't believe that the ways got shorter. For those remembering the long way to interchange from line 1 to line 2 at People Square: There are new yet similar experiences of this kind, for example changing from line 1 to line 9 at XuJiaHui. I'd say…it's even longer a way. Somebody would once need to explain to me why it is not possible to build the platforms of the metro lines closer together while it is possible to dig long tunnels into the very same ground to connect the far away platforms. But then again: Good that some things stay the same, like "it doesn't make sense". Otherwise it wouldn't be China, would it?
The missing metro and also street stalls posed a little problem to me, though. The way Starbucks provides its WLAN internet access changed, too. Up to at least 2007 it was possible to purchase paper vouchers in every store with a username/password combination, which allowed to log in for some time. Now it's basically free, great! BUT…you need a Chinese mobile phone! When you connect to Starbucks' WLAN you are required to enter your mobile phone number and then immediately receive an SMS with that username/password. Works and is free, but: I needed a Chinese SIM card! (I checked out other options: Hotel way way way too expensive, like 120 RMB per day. And Coffee Bean & Tea Leaf has a similar system, just with a different provider.)
Buying a SIM card in 2004-07 was no more difficult than approaching one of the many street vendors with self-made signs indicating the phone numbers they have on offer and making clear with words, hands and feet that you wanted to buy a SIM card (it helps, that the Chinese word is "SIM ka"…so they actually understand the English words "SIM card" quite well :)). Now, with cleaned up metro stations and streets it's a lot more difficult. After long walks through streets and even the usual electronic malls (as long as they have not been relocated) I by chance came across an official China Mobile store near People Square. But they wanted to see a passport (as they also clearly state on their web site). Would have worked out, I guess, if I had not locked up my passport in the hotel. After some more fruitless walking I headed back to the hotel to fetch that damned passport. Only to finally find one single booth at the subway exit number 2 of ZhongShan Park, right beneath the hotel, which did sell a SIM card to me. Certainly the old way…without that passport registration thingy. I still haven't figured out its PIN…but as PIN verification had been disabled that's no problem. 120 RMB (which includes 50 RMB charge amount!)…that's what just one day costs at the hotel. And: I can communicate a lot better with my Chinese friends once it comes to meeting the next weekend.
Now, I'm finally sitting at a Starbucks with internet connection for free. Everything's fine again. And I can start getting used to a cleaner version of Shanghai. Though it has lost some of its remaining charme. We'll see…
Regarding plans…I have none. We've met and dined with some of Nina's friends already who told horror stories about the extraordinary length of the waiting queues for some pavillions on the expo site (like 9 hours for Saudi Arabia and 10 for some place else). And: There's a public holiday on Wednesday (Dragon Boat Festival) and in its usual way Chinese Goverment has ordered factories and offices to work the past two days to have today and tomorrow off to add up to a 3-day holiday. (Don't ask me why they did not make Thursday and Friday a holiday instead.) That means: Today through Wednesday are really really bad days for visiting the Expo. I'll wait for Thursday. In the meantime I'll check out some of "my" places in Shanghai, just to see how they have developed in the recent 3 years. And hang out in some Starbucks shops. 🙂
Stay tuned…in the future certainly also with photos, though these days are extremely hazy.
Today's Lesson: For free internet you need a Chinese mobile.
Categories: Shanghai
Originally Created: 06/14/2010 12:10:48 PM
Last Edited: 06/14/2010