BeiJing (北京)
I was basically walking all day, with no definite destination. I am in no hurry…just wanted to have a coffee before everything starts.
JingShan Park (景山公园)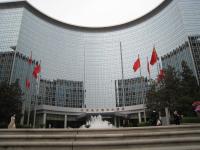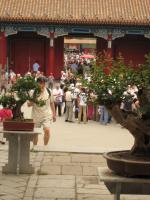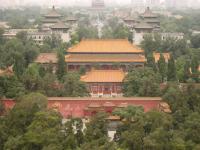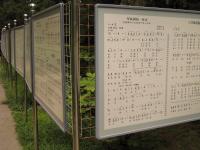 BJ_20070613_095552.jpg: And somewhere in this huge Oriental Plaza with the Grand Hyatt as its crown there was supposed to be a Starbucks…I needed quite some time and asking 2 people before finding it. That plaza is huge…can compete with Shanghai's Super Brand Mall. The new modern shopping world of BeiJing…the shopping walking street next to it, though, can't compete with either Shanghai's Nanjing Lu or only TianJin's HePing Lu. I didn't even take a picture, but strolled northward. I skipped Forbidden City as I had seen it already under better weather conditions. As it turned later out: Some important buildings were also under renovation.
BJ_20070613_123012.jpg: Instead my next tourist stop was JingShan Park (景山公园), the park on the hill right north of the Forbidden City, build from the earth excavated for creating the palace moat, the place where the last Ming emporer ChongZhen hung himself after overrun by a peasant army led by Li ZiCheng, ending the Ming dynasty. (For the story of Li ZiCheng see here, though it does not say what happen to him after defeating BeiJing.) // The picture peeks through the southern entrance, which is directly opposite of the northern exit of the Forbidden City, from where (comparably small) tourist masses cross the street (JinShan QianJie) into JinShan park.
BJ_20070613_124525.jpg: From the top of JinShan Hill further nothward (as you all know pictures southward onto Forbidden City): The strict geometric pattern in the line of Arrow Tower on the South of TianAnMen Square, via all the palaces of the Forbidden City, and the top of JingShan Park continues further via a temple within JingShan Park along today's DiAnMen DaJie (地安门大街) to the Drum Tower in the far back. I don't even know what the double-group of 3 towers to the sides of DiAnMen DaJie actually are…
BJ_20070613_130225.jpg: Can you guess what tat is? I also needed some time…I could read so few characters only that I could find no clue…until I heard a lady humming a song under her voice. Then it dawned to me: These are Chinese songs! The notation is quite surprising, not the musical notes we westerners are used to, but just a collection of numbers, whose exact meaning I could not figure out. But apparently some seniors strolling the planels could. And there were very very very many of these panels…I tried to cover it a bit on the picture, but these panels continue for several hundred meters around the north-west corner of the park. There was no English text at all, but I could guess from some text/photo panels that some singers got portraied. How these songs correspond to them I can only speculate. It was then only consequent that I heared singing from the very edge of that north-west park corner.
BeiHai Park (北海公园)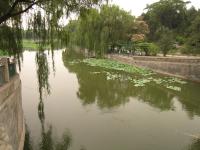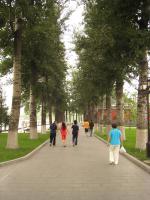 BJ_20070613_132446.jpg: From the west gate of JingShan Park it is only 200m to the east gate of BeiHai Park (北海公园). This one I had seen already (check there for better and more pictures!), but liked it so much that I entered again, walked up and down the to the White Pagoda, sat down for a break, reading Die Zeit.
BJ_20070613_142348.jpg: A small alley way in the north-east corner of BeiHai Park.
HuTongs (胡同)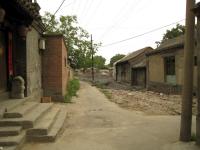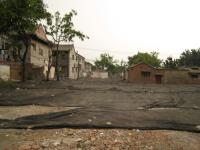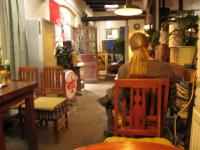 BJ_20070613_145517.jpg: That's not the kind of pictures you find in your tourist guide books…
BJ_20070613_145814.jpg: …but this is what many HuTongs nowadays look like: The houses reduced to rubble. I had refused the many offers of rickshaw drivers for a HuTong tour. I did not want to see the ready-for-tourist places. I wanted to see what happened to those not being restored. There were rumours and newspaper articles about them being removed for a modern BeiJing. So I strolled along some streets just by chance, turned a few times, the DaJies turned Jies, the Jies Hutongs, and finally the Hutongs just beaten paths (somewhere in the area of the northern end of DongBanQiao Jie). Over some rubble hills I found my way back onto DiAnMen DongDaJie (地安门东大街).
BJ_20070613_152917.jpg: Right across DiAnMen DongDaJie started the tourist area of HuTongs. Well, sure…I made a picture of it, but it is completely blurred…but I'll gonna get there again. Though not original (and which westernern would really like to spend more than a 10 minute look in a very original Hutong court yard?) NanLuoGu Xiang became a nice relaxing backpacker street: Lots of small cafes and bars, 2 small hotels, which call for the backpacker (though at daily rates a lot higher than what I pay ;)), occasionally a real restaurant, in the middle a top-class restaurant (don't know how that attracts its customers). Only bad thing: cars were not banned. After strolling up and down I sat down in one of the cafes for a cappucchino and another bit of Die Zeit. The cafes' and bars' menus are, however, often similar: Pasta, Pizza, maybe Burgers. For the typical western tourist…I left for the city for some more authentic food, got misguided by the fact that my otherwise great map has a metro line chartered, which is being constructed only, and walked a lot longer than I had intended.
TianAnMen (天安门) by Night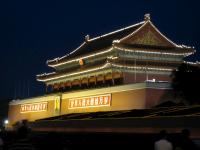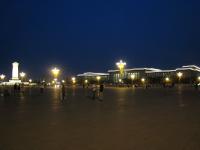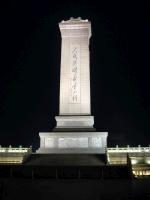 BJ_20070613_200619.jpg: I could not stop myself…returned back to TianAnMen (天安门), just to make sure that Chairman Mao was well. (He got splashed with color by somebody a few weeks ago, the portrait replaced the very next day already. I keep wondering how many of this huge sized portrait they have on stock.)
BJ_20070613_201119.jpg: Ach ja….there was this world's largest city square next to it. It didn't impress me 3 years ago, and it did not do so today. It's just vast empty space, with a too high density of street peddlers offering kites or kitsch. I got extremely annoyed. 3 kite sellers approaching me within half a minute, clearly seeing that I didn't buy from the first one, why should I buy from the next??? I waved away everybody approaching me…well…also the postcard sellers. That was probably a mistake…this was one of the few chances to buy postcards. Another day then, I'll stay a while longer.
BJ_20070613_201702.jpg: Quite honestly, don't ask me, I don't know what it is. I tried to read it, but have trouble with the script. But it was in the middle of TianAnMen Square's north, so it must be somehow important.
Today's Lesson: Nothing is eternal, except for street peddlers.
Categories: Asia, BeiJing
Originally Created: 06/13/2007 03:29:58 PM
Last Edited: 06/13/2007