Beijing in 1 Day I: Forbidden City
Note: All pictures starting with "br_" or "don_", are again published by courtesy of Britta or Don respectively, xiexie nimen!
OK, imagine, for whatever weid reason you have exactly 1 day to spend in Beijing. What would you do? OK, let's start with arriving: It's just a two hour flight from Shanghai. We got on one served by China Air for about 50 EUR one way. Sitting in a comfortable 747, full, but lots of space even in the economomy class, friendly service, a warm snack, that's kind of travelling…
We had picked the hotel via internet from HRS, a place called "China Resources". Everything was so cheap that we opted for a 4-star-place. Not right in the city (there are only the Grand Hotels, and why should we spend 100 EUR a night, if we could get it for 40?), but next to a subway station. We tried to get a guaranteed booking via HRS. We found it somewhat strange not to be forced to give a credit card number for a guaranteed booking. But who cares, maybe that's the way it works in China.
It does not. The hotel looked nice when we arrived there at about 22h. The service personnel was friendly and even spoke enough English to be able to communicate with them. But they canceled our bookings "because of overtime". That made me smile every time the young man repeated that, "because of overtime". If I have too much of one thing then that would be overtime. But it was clear that he actually meant too late arrival. It needed a couple of minutes until we finally agreed on a somewhat smaller room with again cheaper rates (36 EUR only), but at least he had something for us. (It turned out later that there was a large group with some kind of event occupying many rooms.) There rooms were still fairly large twin rooms. With these rates all three of us certainly booked one room on their own… 😉 Only the bathroom was a bit small, but I am, too, so no matter. But Britta and I had to smile when imagining how Don would take a shower…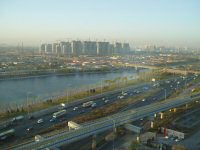 don_041127_278S: View out of our hotel room's window. It is actually not related to Beijing's downtown.
Back to the introductory question: What to do with one day? Let's put another restriction on top: It happened to be Don's birthday on Saturday. So he insisted that we go out on Friday night after arrival to celebrate into his birthday. We got two recommendations. We were already afraid, based on experiences, that there was one good and one not as good recommendation. We picked the not as good recommendation for our first night out…
To make a long story short: Please refer to "First Insight's in Shanghai Night Life" and replace every mentioning of Shanghai with Beijing and you basically got the idea. That street were we went was even a tiny bit worse. We ended up in a pub with too loud, but at least not solely Chinese music. The cocktails were as bad as always so far. We waited for midnight, cheered to Don's birthday and pretty soon got back to our hotel. We had decided to start early, as…
…we had only one day, if I didn't mention that yet. So, finally, what to do?
Yeah, right, Tian'anmen, Forbidden City, something like that. We got into the city by subway. The Beijing subway system is not as modern as the Shanghai one. They need to do a bit on it before the Olympics. We had to buy tickets from a both, no vendor machines. But again cheap: Just 3 Yuan (30 EUR-Cent).
When exiting I just forgot that we wanted to do Tian'anmen Guangchang (Platz des Himmlischen Friedens) first and headed right for the Forbidden City. Britta and Don protested at first, but when we actually looked across the street towards that world largest inner city square we became aware, that a square is simply a great deal of empty space. It might have a famous name, a diverse history and long entries in every guide book around the earth. It stays a large, grey tiled area. We commonly agreed on skipping it. Furthermore, although the subway was fairly deserted, here right inbetween China's two most famous tourist attractions, it became obvious, that we wouldn't enjoy the scenery just alone: Herds of tourist jumped of busses and streamed into the large gate opposite Tian'anmen. So we took some "We were there"-pictures and became part of the herds.
(I'm sorry if I get some English translations of all the Chinese places wrong, contrary to Shanghai this time I'm cheating from a German guide book, a present of my last German project team. Thanx guys! Helped a lot in Beijing!)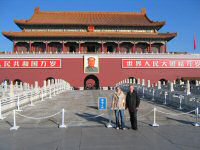 bei_0006: Gate of Heaven's Peace (Tian'an Men, Tor des Himmlischen Friedens): Britta, Birger and…Chairman Mao. He is still adored by the Chinese people.
When seeing the first ticket both right after this first gate I was so sure we had to buy tickets there that we noticed only after the purchase that these 15 Yuan were only for climbing Tian'an Men, this entrance gate we just passed through. With a little more reading it could have been clear upfront… Anyway, now that we got the tickets we did it. The security checks were actually the toughest throughout the whole day. Or, actually, if I'm not mistaken, they were the only ones during the whole weekend… We're still wondering what kind of speciality needed such kind of protection if you, on the other hand, could walk a few hundreds meters further down the central passage way right into the forbidden city with a bomb under your arms and nobody would care…
The hall atop the gate was large and the paintings at the ceiling nice; a well-chosen mixture of blue and green and looking very fresh like restaurated only resently. But apart from that not so interesting. At least the view across Tian'anmen Guangchang compensated a bit for the otherwise wasted 15 Yuan. (Not that that would have been expensive, just 1,50 EUR, but we started to get used to Chinese pricing and considered everything beyond 10 Yuan a lot of money.)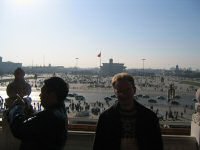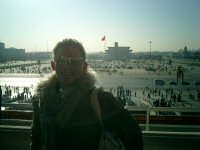 bei_0010: That's supposingly me.
br_041127_300: That's definitely Britta.
The square in the back, though, stays to be a large grey square with some ostentatious buildings placed at its sides and unfortunately also dumped right in the center. Yeah, it's another People's Hero Monument. Remember the one in Shanghai? Not worse…
Hm, sorry, it's getting a bit late here already, so just that you already have something to look at, here a few more picture of the forbidden city. More to come, we've made loads of…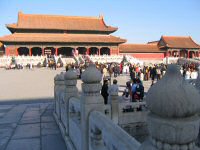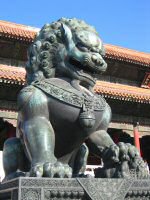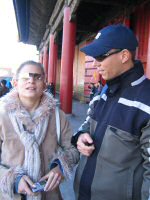 bei_0015: I lost a bit of an overview, which of the many buildings this one here exactly is. And I must admit, that all of them repeated the same architectural theme.
bei_0016: One the lions guarding the temples. This is supposingly a female lion as can be seen by the baby that it is holding under the left front paw.
bei_0018: Britta and Don.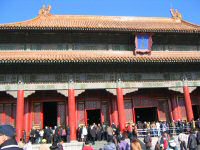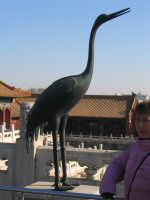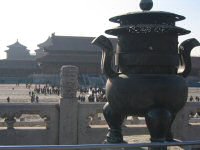 bei_0021: Once again a great house, possibly the one with the main throne. There were really many, separated by large squares.
bei_0023: Nice details in front of the buildings: A stork.
bei_0024: A kind of gigantic tee kettle, one of the large squares separating the temples in the back.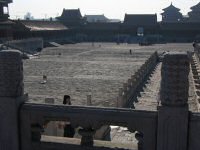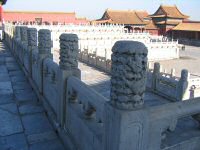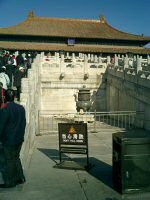 bei_0025: These two photos show details of the steps…
bei_0027: …in front of many of the buildings…
br_041127_306: …of which you are not supposed to fall down.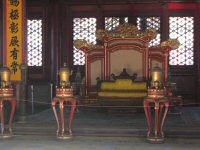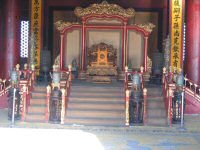 bei_0028: No, this is not the main throne, but the smaller one…
bei_0032: …in a smaller house, which has been used for practicing the complex ceremonies.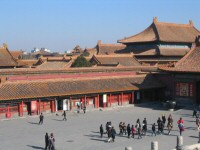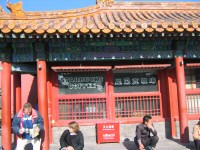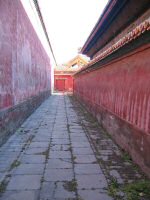 bei_0034: View over pagoda roofs near the end of the forbidden city.
bei_0035: And–a Starbuck's under one of these roofs! Good for a break in bright sunlight.
bei_0036: After that, we left the main tracks and wandered around some side paths of the back part of the forbidden city, like this one.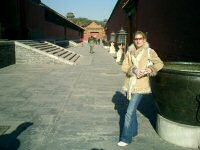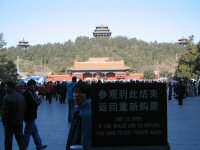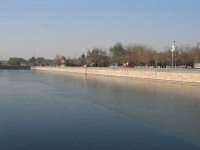 br_041127_324: Nice, comparaly narrow path inbetween forbidden city buildings, not only because of the young lady in front 😉
bei_0046: "Your visit is over", looking on pagodas atop the next hill, which we decided not to visit.
bei_0047: The moat surrounding the forbidden city, covered by a thin ice surface
Categories: Shanghai
Originally Created: 12/02/2004 03:51:44 PM
Last Edited: 12/27/2004