Getting up early, 3am, for a flight at 5:50 to Bhutan. Where is Bhutan?, you might ask. That's fair. The immigration officer at Bangkok airport ask me the same thing: "Where is Paro?" (the city stated on my boarding pass) "In Bhutan." – "Bhutan?…Is that between India and China?" – "Yes, right there, in the Himalayans" – "Oh!"
You should expect that Bangkok immigration officers have to do with Bhutan more often. Druk Air, the Royal Bhutan Airways, doesn't fly from many places. Bangkok is one of them. But the lady was just curious.
BTW: The VAT reclaim for my rain/wind jacket worked out without any trouble even at 5 in the morning: Both offices I had to go to were manned. The first one was supposed (before check-in, but I did it after) to inspect the goods and stamp the form I got at the shop already. He just stamped…when I presented the jacket for inspected he just lazily waived a hand. The lady at the second office after passport control was a lot more friendly, actually urging me to get a cash refund instead, like I had indicated on the form, a credit card refund due to fees incurred with the credit card. As I get back to Thailand I can make use of the money and accepted. 480 Baht more…that is 11 EUR. Naja…it's money, isn't it?
The actual flight first went to Dhaka, Bangladesh, for a stop-over. Whenever I think of Bangladesh I cannot but think of floodings. When else is Bangladesh in the news if it is not about flooding or poverty? And indeed…when we approached Dhaka you saw some kind of water everywhere. The taxi way of Dhaka International Airport was in so bad condition that planes actually turned on the runway and headed back on the runway to the gates. At least there were bridges to the plane.
Bhutan
An hour later we were approaching Paro, Buthan. Overcast sky, clouds everywhere beneath us. When the plane finally cut through the clouds I suddenly understood catastophe reports of planes crashing into mountains, which previously I never quite got. A mountain is so big…how could you possibly crash a plane into one? You can…just cut through a layer of clouds and be right amidst mountains like we were just now. I have no clue whatsoever how the pilot knew that there was a valley at the place where he decided to descend. But lucky as it was for us: There was one. We followed that valley. At the end of it we took a left turn, following another valley, another two or three left or right turns, always following the valleys, mountains topping above us to both sides. Have you seen the movie Top Gun? It's about the same feeling like when they dig into the canyons, just a tiny bit slower, but with a lot larger machine: An Airbus A319. After the last turn into the last valley we nearly hit the roof of a house at the slope of the mountains with the starboard wing, so at least it looked me sitting at the window. And then we more or less immediately touched down, 40 degrees flaps, full reverse power, breaks squeaking, and we made it to a stop just before the runway ended. I later read it just has 1400 meters…far less than half of a standard runway. And only approachable under VFR, Visual Flight Rules. No visibility…no landing. It became clear to me why there's just one airline flying to Bhutan. It's probably one of the last adventures an airline pilot can face.
Paro
Second-largest city of Bhtuan, a staggering 32.000 people! You won't believe it when seeing the pictures of down-town Paro later…but that is where the only airport of all Bhutan is.
PR_20071012_101209.jpg (-1h): Nothing in the way of bridges to the airport building. The plane turns off the runway directly on the parking area in front of the airport building, no taxi way. We got off via stairs onto the airfield. Everybody was busy taking pictures before even officially entering Bhutan. Having the right papers it luckily wasn't a problem at all. Simple setup though. No fancy web cams taking pictures of you like nowadays in Cambodia or Thailand. Visa approval letters in paper files, no computers. But it worked. And two more stamps into my slowly filling up passport. I later learned that the second traveller in my group had a bit of trouble: For reasons unknown to us officials seem to have believed we would form a couple and travel together under my name. She had a boarding pass under my name and also the officials looked for her visa under 'H' like Hoppe. She made it nontheless. 😉
PR_20071012_164047.jpg: Our guide Ratnar of Windhorse Tours readily waited for us and brought us to our hotel. I had to learn that traffic in Bhutan is left-sided again, like in Macau, Thailand, India…. Out hotel is a nice place, but a bit out of the way. No simple walk to down-town. Nice rooms, though, with a fantastic view over Paro valley. The name of the hotel? Valley View Hotel. No kidding!
PR_20071012_104647.jpg: We had arrived at 9am, now I had adjusted my camera's time, too. And decided to head out for the touri program right away. First point: National Museum, which happened to be just 5 minutes away from the hotel at the same street. Nicely set into a former watch tower. Within the museum no photography. Get used to it: There is no photography allowed within any interesting building like museums, temples, monasteries. Photos will be restricted to outside pictures all the time. It showed a comrehensive collection of artifacts of Bhutan's history. Not too many of each kind though, so it didn't get boring. Pictures here, models there, weapons, tea pots and vessels, and the like. But most stunning was actually the collection of post stamps! Yea, really! Did you know that Bhutan has extremely weird stamps? Me neither. But things like records, which would really play on a record player. Or 3-D-serious on space missions. Special editions on all kinds of events, preferably with holographic effects. Lonely Planet specifically mentions a series on mushrooms(!), which was even displayed, which trades for very high prices on eBay. With that knowledge in mind I on the next day bought a series of 4 very beautiful 20 Nu Snow Leopards stamps from the post office, which seems to be restriced to 20,000 copies. I just paid the nominal value of 80 Nu (Ngultrum, 1 Nu = 1 Indian Rupee, 80 Nu = 1.44 EUR). Maybe it will be valuable at some point in time!
PR_20071012_114731.jpg: Large prayer wheels at the exit of the National Museum.
PR_20071013_162903.jpg: The National Museum in the evening light.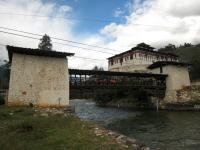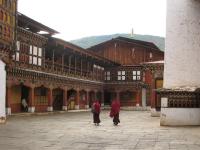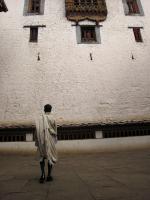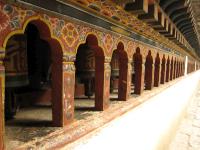 PR_20071012_135746.jpg: Second stop: Paro (or Rinpung) Dzong, the most famous sight of Paro. A Dzong is a kind of fort, built to defend the valley, mostly against Tibetan forces. (Tibet is right to the north behind the mountains.) Nowadays, Dzongs are mostly used as a monestary and for governmental offices together. On this photo the Dzong is in the background with a covered bridge full of prayer flags in the foreground.
PR_20071012_133049.jpg: The courtyard, two monks walking past. Monks are so common a sight here that you can't avoid having them on some photos.
PR_20071012_134251.jpg: An interesting shot, though only on second sight: The man in white in front is our guide in traditional Bhutanese dress, including a white scarf thrown over the shoulder, as required for some sites. (While we foreigners are allowed in without special clothes, just 'appropriate', meaning: Long trousers, shoulders covered.) If you look closely you might find a monk watching out of the middle window of the tower. I could have cut out just the monk, but it gives a better impression together with the guide.
PR_20071012_134407.jpg: The typical Bhtuanese prayer wheels: These are fairly small, the opening maybe just 30cm, so worshippers have to grap into each opening to turn the wheel and send off the prayer written on the wheel.
We had a simple buffet lunch in town. Remember: With the 200 USD 'fee' that tourists pay in Bhutan all meals are covered, too. So we have to be fed three times a day. However, food is not the reason you to Bhutan for. The dinner in the hotel was quite a bit better, but not extraordinary either.
It got a bit chilly in the evening. Paro is at 'only' 2.280m, but I did unpack my fleece jacket and was thinking, what the hell will I do if it gets really cold at 4.000m as we are supposed to reach during the hike in three days? We'll see… The bed was quite warm even without fleece or heating.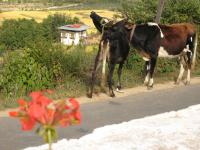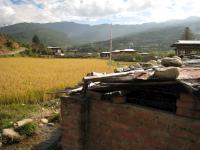 PR_20071013_085452.jpg: The next morning, cows on the street right in front of the hotel. There's two kinds of animals you see next to everywhere: dogs and cows. While the cows are supposed to have an owner the dogs are actually stray dogs as I learned today. With Buddhist believe you won't kill but feed them. They don't disturb you, don't bite or bark at you. They are just there…but are considered a problem by Bhutanese government.
PR_20071013_091104.jpg: Stone-covered roof and rice fields. Just scenery…
PR_20071013_092149.jpg: Dumtse Lhakhang, supposingly a nice interior, but despite having a permit (organised by the travel agency…you need a permit here for all temples) there was no caretaker around for letting us in. We tried twice today, will try tomorrow once more.
PR_20071013_093519.jpg: The courtyard of Kyichu Lhakhang, one Bhutan's oldest temples, built before Bhuddism found its way to Bhutan. Inside two beautifully decorated temple rooms with lots of figures to talk about if only you would remember all these names. Same trouble like back in Lhasa…
PR_20071013_100204.jpg: This is how chili grows. Apparently, Bhutanese love red chili in masses in their dishes. What tourists get is by far less spicy, though. A bit a pitty…so far the food was fairly uninspiring.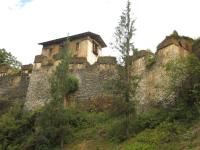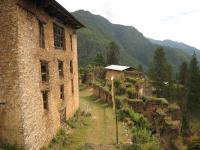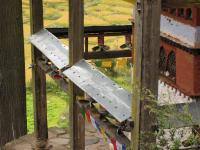 PR_20071013_104247.jpg: Drukgyel Dzong, an old fortress of 1644 meant specifically meant to defend the Paro valley against invading Tibetian forces from the north-west. It worked very effectively: Bhutan defeated Tibet three times, after which Tibet gave up and acknowledged Bhutan as an independend state. That is about all fighting Bhutan ever experienced with its neighbours, except for the British.
PR_20071013_105430.jpg: The Dzong unfortunately burned down 1951 in a fire caused by a butter lamp and has been left in this state as a memorial.
PR_20071013_104220.jpg: A small temple on the way up. Watch the prayer wheels driven by wind power.
PR_20071013_105509.jpg: Rice fields as seen from Drukgyel Dzong.
PR_20071013_105815.jpg: "Use me" is what every waste bin calls around Paro.
PR_20071013_110312.jpg: Local houses around Drukgyel Dzong.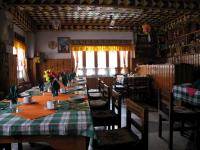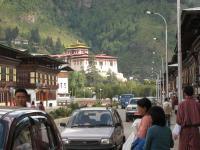 PR_20071013_114918.jpg: The restaurant for lunch. Places actually look quite nice from the inside with lots of wall and ceiling decorations. Lunch was twice now just a buffet. Nothing spectacular, but filling. Tea or coffee comes for free. Eleonore had once ordered a bottle of pure water and was charged 30 Nu (0,54 EUR) for it. Tough luck 😉
PR_20071013_130559.jpg: Street scene in down-town Paro, with the Paro Dzong in the background.
PR_20071013_132145.jpg: Houses remind you of Lhasa and/or Swiss chalets, or a combination of both.
PR_20071013_132343.jpg: Woman wearing a local dress.
PR_20071013_132655.jpg: Looking back on down-town Paro.
PR_20071013_100352.jpg: More people: An old woman approaching Kyichu Lhakhang.
PR_20071013_133015.jpg: Woman waiting at a street.
PR_20071013_133210.jpg: Elderly monk in warm jacket.
A Walk above Paro
PR_20071013_160935.jpg: Again the sightseeing program was done at about 2pm. Eleonore and I headed out for a walk by ourselves later in the afternnoon, just walking uphill starting from our hotel, enjoying the specific light of the relatively low sun.
PR_20071013_163512.jpg: Another stone-covered roof, with Paro valley in the back.
PR_20071013_164009.jpg: Paro valley in the evening sun.
PR_20071013_164149.jpg: Yea…flowers again. But my camera refused to take close-ups of the blossoms.
PR_20071013_164458.jpg: A fairly new, modern looking private home far uphill in front of some dramatic looking but actually harmless clouds.
PR_20071013_164607.jpg: Mooooh!
PR_20071013_165423.jpg: I believe a specific thing to Buthanese Bhuddism: White prayer flags vertiaclly attached to poles.
PR_20071013_165636.jpg: More of that kind with a bit of mountain scenery.
PR_20071013_165859.jpg: A less modern home, but also cool colors.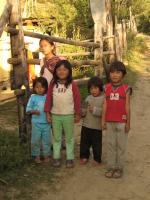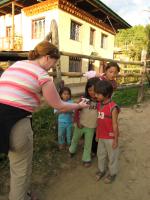 PR_20071013_165935.jpg: Children at the turning point of our walk. Just watch this photo, for which Eleonore had asked for permission, …
PR_20071013_165941.jpg: …and this one a moment later, when she was showing the result to the kids.
In the first one, everybody's posing, very seriously, a bit anxiously looking at her and me. On the second one, everybody's curious about the result, eager to be the first one to see. Now you probably understand, why I prefer my hip shots without asking or focusing: They turn out more natural (like the 'more people' section above). Unfortunatley, a lot of attemps of getting peoples' pictures in down-town Paro didn't not work out.
When we returned to the hotel there was still no power. There had been no power around noon, when we tried to get internet access at the post office (where I bought the Snow Leopard stamp series). There continued to be no power until about 6:30pm. We had a very romantic beer on the hotel's balcony, partly supported with candle light, exchanging war stories of consultants' lifes. Power was back to the central valley by that time, but not to our part of the valley. Just before dinner was served also we finally had power again. End of remoteness. But internet must still wait until tomorrow.
Today's Lesson: Tea/coffee is for free, bottled water not.