Taktshang Goembe, "Tiger's Nest", is the most famous and spectacular monastery of Bhutan as it is attached to sheer rock 900m above valley ground. It is the place where Guru Rinpoche flew "on the back of a tigress, a manifestation of his consort Yeshe Tsogyal, to subdue the local demon, Singey Samdrup." (Lonely Planet) Guru Rinpoche then seem to have liked the tranquility of the place and meditated right there in a cave in the rocks for three months.
Nowadays, no tigresses are provided. One has to walk. Or ride a horse for most of the way. We certainly walked, enjoying the best weather so far and splendid vistas.
Uphill / Cafeteria
We hat got up early and left the hotel at 7am, so that we started the uphill hike at around 7:45 or so. In the beginning some clouds covered the mountain peaks, but the sun cleared them up over time.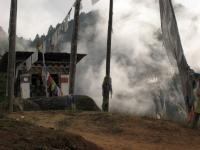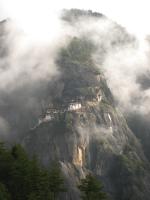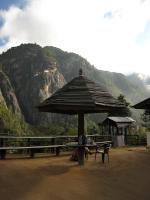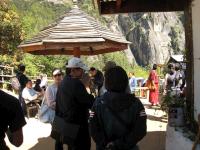 PR_20071014_082512.jpg: We got various far views onto Taktshang Goemba on the way, but too far for our small cameras. Here, a small hut with a prayer wheel and flags around on the way. The monastery can be guessed behind the clouds on the left-hand side of the photo.
PR_20071014_082646.jpg: The first reasonable view on the Tiger's Nest, check out the big version. The clouds give the scenery a mystique touch.
PR_20071014_083339.jpg: Recently a cafeteria had been built about 2/3 of the way up. So early in the morning this is a lovely place, that we had just for ourselves and enjoyed a tea there. Always with views onto the nest.
PR_20071014_113545.jpg: Compare this with 3 hours later on our way back…just too full. We did not stay there for lunch.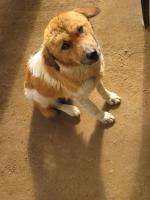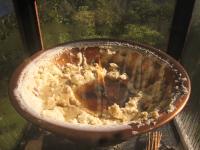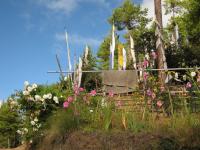 PR_20071014_083432.jpg: Dogs had followed us all the way up. Surprisingly, now that there was some food to get at the cafe (crackers) only one faithful dog was left.
PR_20071014_083643.jpg: Butter lamp behind glass.
PR_20071014_083913.jpg: Colorful flowers mix with colorful prayer flags and now a clear blue sky.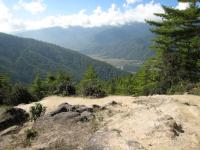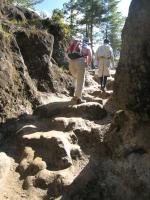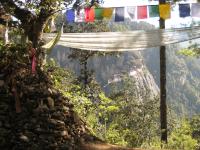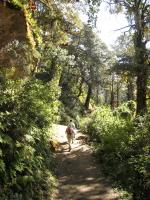 PR_20071014_091728.jpg: But some time we had to leave the cafeteria and continued further up. Here a view back onto the back part of Paro valley.
PR_20071014_091835.jpg: The track was always well walkable.
PR_20071014_092120.jpg: Various sets of prayer flags on the way, always looking upon the monastery in the back.
PR_20071014_093150.jpg: Lush forrest around.
The Monastery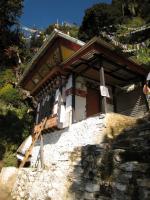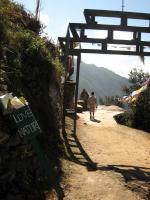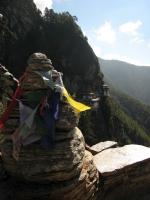 PR_20071014_094304.jpg: Formerly just the home of a keeper of the site. It became famous as once a son of this keeper's family became later abbot of the Taktshang Goemba.
PR_20071014_094511.jpg: Gate to the best views…watch the words on the waste bin. There were many more lovely examples around like "I'm here", "Fill me up", and the like.
PR_20071014_094821.jpg: We are now level with the monastery.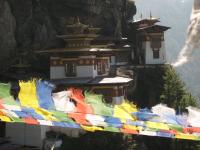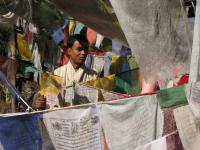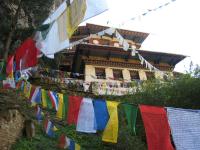 PR_20071014_095141.jpg: Looks close now, but is heavily zoomed 😉 there's still a steep gorge inbetween, which we pass later on a couple of stairs and a very stable bridge.
PR_20071014_095202.jpg: I love this shot! 🙂 Our guide amidst loads of prayer flags.
PR_20071014_100840.jpg: Now only a few stairs away from the Tiger's Nest.
Certainly, within the monastery no photography. We even had to deposit bag and camera at the entrance. We were guided to three temples within the place. As we were the first visitors all of them needed to be opened for us. The first one built in front of the cave where Guru Rinpoche had meditated for three months. The cave itself can be seen through peek holes in a door, but this door is opened just once a year. (There was a butter lamp burining…somebody must replace that one regularly ;)) Naturally, the temples were full of the statues of Guru Rinpoche in various of his eight manifestations, each of them having their own names. I must admit that I got confused with all the names and statues, which in the end were all meant to be Guru Rinpoche. But that's Buddhism… We didn't see anything else, which is certainly a pitty from a tourist point of view, but fully understandable as this is a holy place and active monastery.
When we left the monastery large groups of tourists flocked in. Good that we have been so early!
Downhill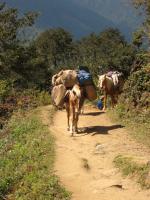 PR_20071014_111846.jpg: On the way down there was surprisingly nothing new any longer 😉 so here just a photo of some pack ponys bringing goods up to the keepers' homes and the monastery.
We decended all the way down and were brought back by car to down-town Paro, where we had lunch in the same place as Friday.
Paro Sunday Market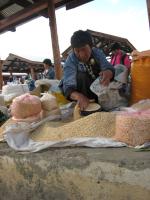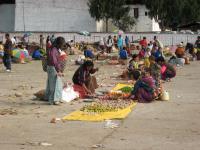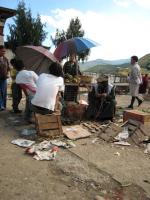 PR_20071014_140127.jpg: Then we had asked to get to the Sunday market of Paro. It was certainly way too late, but we just wanted to check out what's left. Here a lady packing her rice.
PR_20071014_140304.jpg: Generally it was indeed practically empty now and most traders packed up for the day.
PR_20071014_140404.jpg: Well, yea…merchants.
On the way back to the hotel we made two further stops: There still was the inside of Dumtse Lhakhang, a temple with very elaborated wall paintings. There were so many figures to see that even our guide could identify not all of them. But quite honestly…Bhuddism is still a bit confusing to me with all this holy people.
Prayer Flag Bridge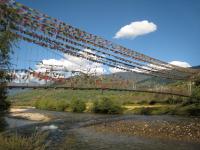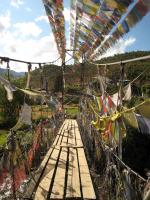 PR_20071014_144834.jpg: A stop here had I requested. I had seen this suspension pedestrian bridge quite often. Can also be seen from our hotel. The bridge by itself might be of lesser interest,…
PR_20071014_145016.jpg: …but with the prayer flag decoration it surely makes a nice photo motif.
Tonight at the hotel a rare thing happened: A music video is being produced! When we returned at 3pm a group of dancers practised. We didn't think much of it, maybe some preparation for a local festival or so. In the evening our guide knocked at my door, saying I would have complained about the music and that he liked to explain what happened. I was surprised: Have not complained about anything, in fact had watched the practising dancer for some while. During dinner various people came in appologizing for the inconvenience and music. I DID NOT COMPLAIN! After dinner we took another bottle of beer and settled in the little bar, looking out onto the preparations for filming the actual music video. Many people were trying to get the light right, playing around with different colors. At around 10pm they finally started filming the scene of group dancers in three shots: Camera moving up and down all the time, moving up and down more slowly, moving left and right. And that will be cut to the typical music video I have seen too many of in Tibet. It will be a completely boring movie, especially as I have heard the music now often enough. But it was exciting to watch it happen. And no complains!
Tomorrow we will start our Druk Path Trek, a hike from Paro to Timphu in six days.
Today's Lesson: Start early for the Tiger's Nest.
Categories: Asia, Paro
Originally Created: 10/14/2007 01:59:13 PM
Last Edited: 10/22/2007