Ao Nang is a beach near Krabi on the Thai mainland. Krabi was on our list of places to visit. Rafael and Petra actually have flights back to Bangkok from there, so we had to get (near) there anyway. And Ao Nang was a recommendation we got on Ko Samui (from the guy who helped me home after my successful experience of the gap in the time continuum).
Arriving
Petra and I got from Phuket to Ao Nang uneventfully via a ferry in about 2 hours. Only the last few meters had a bit of an event: The ferry couldn't dock at the pier due to low water. We were brought by longtail boat to the beach. It took a while to meet Rafael again. The original meeting was great and Rafael sticked to it: The actual ferry pier. But Petra and I thought that's a bit far out of Ao Nang and is not the pier in the map we had intended to be at. So we took the free ride into the 'city' of Ao Nang and phoned Rafael to get there…and all this back and forth took its while. We found accomodation in a small but clean Hotel on the main road but off the beach for 1.500 Baht per day in a 3-bed room (J Hotel, if you care). It was a recommendation from one of the roughly 123 travel agencies in Ao Nang where we happened to wait for Rafael. That agency booked all our travel over the next few days very reliably.
There are not only loads of travel agencies (or, let's say, tour organizators…in the end all of them pick up the phone and call somebody to make the actual bookings). The entire Ao Nang beach strip is basically an endless row of: ATMs, Italian restaurants, Tour Organizators, and occasionally a 7 Eleven. Very romantic…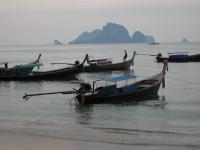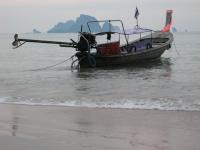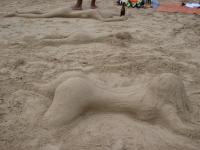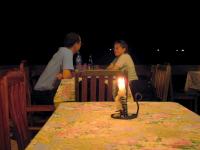 AN_20071104_174330.jpg: Wonder what a longtail boat is? Here you are…the means of transportation around here.
AN_20071104_174716.jpg: It's a thin but long boat. It's specialty (though I have seen similar constructions in Vietnam) are the engine/propeller combinations: The entire set of engine, shaft, and propeller is mounted on the boat's back in a movable fashion. The boatman steers the boat by turning the engine. Has the advantage of being able to go to extremely shallow waters.
AN_20071104_175058.jpg: Really cool sand sculputures on Ao Nang beach.
AN_20071104_214141.jpg: Rafael and Petra having a romantic talk after dinner 😉
4 Island Tour
There seems to be a few things you have to do in Ao Nang, one of it is the 4 Island Tour, or alternatively the 5 Island Tour. Both of them visit completely different islands. Based on the schedule we decided for the four islands by longtail boat, just because it is more 'traditional'. Speedboat is a more expensive and less romantic option offered.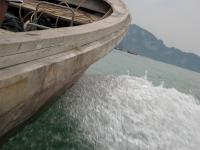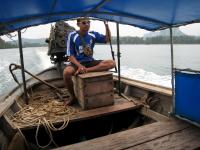 AN_20071105_085830.jpg: And the three of us, together with another couple unknown to us, we set off, the engine roaring. I do have a 10 second video with sound…maybe I put that here some day. No action…just the roaring of the engine and the splashing of the water. Earplugs might help, but somehow spoil the experience 😉
AN_20071105_090036.jpg: That guy doesn't need earplugs. He might need a hearing aid, though, in a few years time.
Update 10-NOV: And here (18 MB) is the 'movie', which doesn't really move much, but provides you with the ultimate longtail boat sound experience!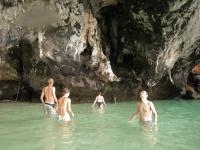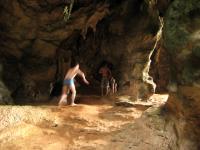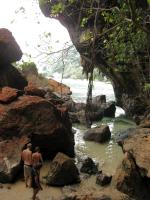 AN_20071105_092521.jpg: First stop: Tham Phra Nang (Princess Cave) on Railey. The cave is accessible at low water only through a small opening. I was so smart to bring my camera's underwater housing, thus, the only one with pictures 😉
AN_20071105_093159.jpg: Inside the cave, Rafael fleeing the scene 😉
AN_20071105_093716.jpg: I was assured by our guide that this is the position from which there has been a famous postcard made. We weren't so lucky to have postcard weather, but at least it was not so hot.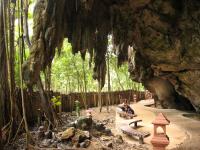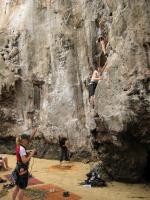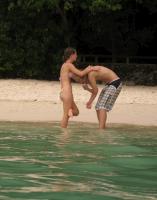 AN_20071105_094645.jpg: Back from the cave, wandering around that half island of Railey. It is a fairly secluded area as it is cordoned off from the mainland by a line of limestone peaks, which make it impossible to reach the area with any other vehicle but a boat.
AN_20071105_095620.jpg: This rocks are popular climbing targets and indeed look great for this purpose.
AN_20071105_100913.jpg: We also got a few minutes of time to swim at the great Railey beach. Here the other couple of our tour.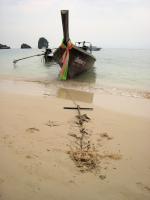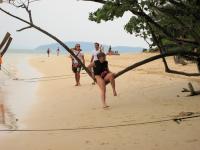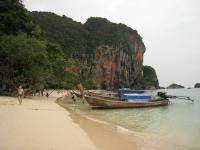 AN_20071105_102715.jpg: Our longtail boat, still on Railey beach.
AN_20071105_102736.jpg: Petra posing for Rafael, who takes a (better) photo from the right.
AN_20071105_102834.jpg: Railey beach, with the large rock in the back housing the cave we had visited earlier.
AN_20071105_104740.jpg: Next stop: I believe Ko Poda. Hmmm….watch the water!
AN_20071105_104929.jpg: These signs, reassuring you that you aren't yet in paradise, you nowadays find all over Thailand's beaches. It doesn't need much imagination to figure out when they have been set up.
AN_20071105_105145.jpg: But paradise is damn close…
AN_20071105_105234.jpg: Fishes. Many curious fishes.
AN_20071105_105350.jpg: Very many indeed 😉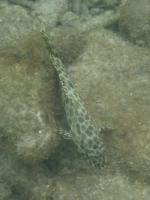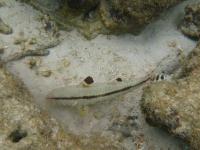 AN_20071105_105743.jpg: Snorkeling was part of the trip and here was the first chance. Though it was said the next site is better I made the better photos here.
AN_20071105_110117.jpg: Water was shallow (rarely more than 2m deep) and as clear as drinking water,…
AN_20071105_110158.jpg: …resulting in very well focused and colored pictures. I sometimes dived half a meter or a meter for a close-up shot (and some of the above might be), but mostly I just took my pictures floating on the surface.
AN_20071105_114452.jpg: Speeding off to the next location…
AN_20071105_115254.jpg: A snorkeling site behind Chicken Island. Looked somehow nicer due to the many colorful corals. But not more fishes than before and deeper and more difficult to find, thus, as said, my previous fish pictures are better. Also, my battery ran dead while snorkeling. I certainly had a spare battery with me…but it turned out to be empty, too….sniff…no more picture from me this day.
The curious fishes were here again. So many that Petra and Rafael felt a bit uneasy in the water and got back into the boat while the other couple and I actually enjoyed the proximity of fishes. When our guide starting throwing bred into my direction it got a bit too much, though: The fishes started biting in all directions, inluding me.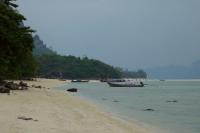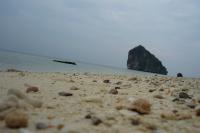 AN_20071105_132110_Rafael.jpg: But Rafael still had battery power (beach side of Chicken Island)…
AN_20071105_132257_Rafael.jpg: …and this artist's eye for the special motif.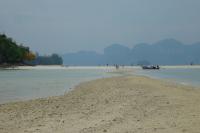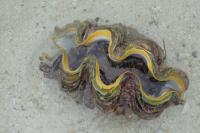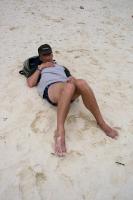 AN_20071105_133553_Rafael.jpg: On that beach there are two islands connected with each other during low water. This sand bridge is flooded during high water.
AN_20071105_134607_Rafael.jpg: Some unidentified but magnificient mussle in the shallow low waters around that island.
AN_20071105_140957_Rafael.jpg: Having no battery power I took a rest 😉
Future Plans
Already done, pictures selected, but I need to find time to write the article:
On 06-NOV Rafael and I visited Ko Phi Phi, a famous island, which started to get completely overcroweded (and -priced) after the 'famous' movie "The Beach" (which I don't know…but I am reading the original book right now) got shot there. We were out for 3 hours of cayaking.
On 07-NOV, i.e. today, I had another 2 fun dives starting from Ao Nang, organized by Poseidon Dive Center, which I can warmly recommend. My underwater photos get better and better with experience, the dives deeper and still longer…I'm getting into it! 😉
Tomorrow, 08-NOV, I will board a bus for a 20-hour-ride to Kuala Lumpur, Malaysia. Shortly before finishing all my travel (this year ;)) I will do a bit of an adventure. I am still missing a land border crossing. So far I had always flown into new countries. Boring and expensive a way. I could fly to Kuala Lumpur from Phuket, but that would require me to get back to Phuket, stay there overnight (as the ferry and plane schedules don't fit), and then fly the next day. Takes more than a full day all-in-all and costs aproximately 8.000 Baht. Taking the bus takes 'just' 20 hours and 1.100 Baht. And I get my land border corssing 😉
I will visit Kuala Lumpur for three days and move on to Singapore on Monday, 12-NOV, probably again by bus as there a good regular business busses available. On 15-NOV I have my final flight back to Germany from Singapore via Bangkok.
Today's Lesson: Snorkeling also allows for great underwater photos.