HoiAn was a tranquil village when I was there 2 years ago. It has changed, though. As Nina put it: "I would still recommend visiting HoiAn, but it's getting too much commercialized." While I certainly remembered a lot of things and found some places I had been before, there had also a lot of cozy hang-out places gone and been replaced by the 36th incarnation of a souvenir shop/gallery/clothes shop. In general, the restaurants moved up by half a category, as did their prices. And the number of western-style dishes on the menu increased dramatically. Hurry up, if you still want to see a Vietnamese HoiAn!
Ancient Town
First: In some old temple at the beginning of the old city we wondered what these dried bamboo sticks were good for: The temple has turned into a lampion production site. These bamboo sticks form the frame on which paper will be spanned in a later step.
Second: View from the all-too-famous Japanese Covered Bridge. However, the image doesn't transport the bad smell this little creek offered to our noses.
Third: This time we bought the Old City Ticket and checked a number of tourist attraction included in its package. The most memorable was this private home, elegantly decorated in Vietnamese, Chinese, and Japanese styles. It is used by the same family for some generations now (the mother at the office desk was fourth generation, wasn't she? – NO! She was the sixth generation, the daughters, who did the tour were the seventh!). And they are still living there.
First: A visit to the market must not be missed. A still pretty typical local famers market with all kinds of vegetables, meat, and fish. And next to it, on the strip along the river, there are a lot of local coffee bars, where I had so far (and I am writing these lines three days later) the best iced coffee.
Second: Vacation. A turtle seen in one of the other temples.
Third: View from the Ceramics Museum onto HoiAn's roofs. The museum is better known for its actual building than for its exhibits and hence worth a visit.
First: View from a caffee in the midst of the Old Town, where we sat down for another coffee and some quick lunch.
Second: We had taken quite a long walk to the outskirts of the town in search for two more temples. One we might have found but couldn't quite confirm as it was closed. The other we didn't find. On the way back to the hotel (longing for a shower) we passed by another unchartered temple, which was closed, too, but from its premises this picture featuring its pond came into existence.
Third: The ponds hat some beautiful water lilies…no idea what that is exactly.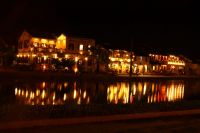 After some rest and a shower at the hotel we walked back into town for dinner. As said: Dinner options have changed. I must admit that the street across the river has changed a lot to the better. And we ended up in a locaton there. However, the difficulty all the time was to find something authentic Vietnamese. Most, if not all, restaurants offer either also or even in the first place western cuisine. Means: Pasta, Pizza, Burger. The restaurant we finally picked offered a very well priced set meal, which we chose, plus some additional picks from the menu. All good and tasty…but the choice of Vietnamese dishes was so limited that you couldn't go there a second time.
My Son
An old Champa religious site. Again, we picked the morning tour. And again it was a good deed…if only for the relatively low temperatures. It's still so damn hot and humid that you start sweating while sitting in the shadow. The guide was fairly limited this time…his knowledge based on memorized phrases…like "archeologists came for studying"…"ancient Champa people"…and a couple of letters in his words you had to guess.
First: Group C's main temple, still my (and as it so seems also Nina's) favorite.
Second: An altar in the main temple of Group B. Worshippers pour water over some relgious items put into its center and catch the water again at the end of the trench, after it had turned "holy".
Third:Some figure on the main temple of Group C.
First: View across group B.
Second: Grass is coming back (Group A).
Beach
After a nap (we had gotten up at 4:30am!) at the hotel we had us driven to the beach. Finally…it's said to be beautiful…and it is! The stretch of beach is no shorter than 30km, all the way up to DaNang (where a strip of this very beach was called "China Beach" during the Vietnam War, where GIs took a rest). We had taken only the most necessary belongings with us…and that excluded a camera. Hence no pictures. In the end everything turned out to be organized in the usual Vietnamese way: The taxi brought us to a specific restaurant at the beach. There we sat down on some beach chairs, for which we paid 50.000 VND to the restaurant owner. But that was the only chance for some shadow under a sun umbrella. Later we ordered some small dishes…certainly from the very same restaurant. At least they called us a taxi when we left at about the time of sunset, when everything got cleaned up and fastened for the night.
The beach itself is wonderful! Bright, fine sand. Warm, shallow water. (Eh, yes…salty…it's the Chinese Sea, ie. eventually the Pacific Ocean.) Not too many guests at this time of the year. Hot, but a constant wind made everything very well bearable. Only the beach hawkers with their undefined set of offerings were a bit of a pain.
The day ended in a simpler restaurant in the Old City, where we had some really good yet simple Vietnamese-style food in a family-run place along the river.
Today's Lesson: HoiAn is loosing its charme to tourism.
Categories: Asia, Hoi An
Originally Created: 08/20/2009 02:19:00 PM
Last Edited: 08/22/2009