Laos – Considered the country with the lowest development level in Southeast Asia. We haven't been there before. And even before starting to travel we felt like we would go there only once. I write these lines in a western style cafe in Vientiane on our last day, only waiting away the time until our flight to Bangkok starts. And by now we know for sure: It was worth coming here! But once might indeed be enough for quite some time. And now we also know: Good that we started in Luang Prabang, which was by far the most beautiful, most tranquil, most inspiring place in Laos of those three that we have seen. I have select 24 photos just for the first day of walking around the town (calling it "city" would be slightly exaggerated). And there are two more days in Luang Prabang to come…
We had boarded a Vietname Airlines flight from Hanoi to Luang Prabang in the morning, arriving on time at 10am in Luang Prabang International Airport. I though I had seen quite a number of small international airports (Paro of Buthan is a good example 😉 but this one is probably the smallest so far, only accessible by small jets (like our Fokker) and turbo props. The visa-on-arrival process was quite smooth (though some travellers didn't quite get the idea of queuing up or not needing an additional visa if they have one already…), luggage waited for us, an ATM was available giving us Kip based on our Maestro cards, and a young lady waited outside with a sign welcoming us to our guest house, where a Tuk Tuk brought us to. All perfect!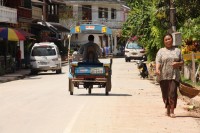 Quickly we set out exploring Luang Prabang. It stayed to be hot. Very hot indeed. But the place was so calm that it was relaxing nonetheless just slowly walking around.
Wat Mai Suwannaphumaham
Luang Prabang is known for its numerous Wats (Buddhist temples), some 30 or so. There are so many that I lost track over time which one we were in. You turn around a street corner, and there's yet another one. It so happened that the Wat closest to our guest house we actually never visited as we always passed by too early or too late. (Wats should be visited between about 8am and 5pm. After that time the monks have their lessons in the temples, which should not be disturbed.)
The first one we entered in Luang Prabang (and therefor in Laos) was also the one with the longest name: Wat Mai Suwannaphumaham. (Fun typing that name over and over: Wat Mai Suwannaphumaham. And, no, I didn't use cut&paste…just typing: Wat Mai Suwannaphumaham ;)) Understably, there I took more photos than later in other Wats. There are even lots of Wats who never made it on my chip at all. You can easily get tired of Wats if they come in these numbers.
First: The Wat's altar in the main hall, called sim.
Second: A silvery looking small buddha on the altar.
Third: A jade-like looking small Buddha on a side altar.
First: We liked this make-shift switching board, only to see later lots of these throughout Laos, also in our various guest house rooms. But I believe this one continued to be the most impressive.
Second: An outside relief wall of the Wat.
Third: A Naga Buddha. Nagas are important to the Lao people. And we like them 😉 They are the deities of the Mekong River. And they need to be pleased for it to rain. One very nice passage in Lonely Planet about the the history of Laos reads (in the section shortly after socialist take-over, late 1970s): "The annual rocket festival, held to encourage a copious monsoon, was cancelled. That year there was a drought. People shrugged: the naga were annoyed. Subsequently the festival was reinstated."
The Royal Palace
…was not sooo great, no comparison to, for example, the one in Phnom Penh or Bangkok. And taking pictures inside forbidden. So here's just one, the Wat on its premises: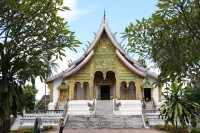 Wat Ho Pha Bang.
The palace had actually been used by the kings and their family. The rooms still showed some of their furnitures plus some decoration and international gifts in the other rooms.
Modern Life
We had read Lonely Planet back and forth to be prepared for lack of cash and communication. Only to learn: a) Laos isn't as cheap as we thought, b) ATMs are available in all tourist places, and many of them, c) there is a reliable mobile phone network, d) internet and Wifi are available (though slow at times).
First: Probably the nicest ATM we came across. Unfortunately, they have a limit of 700.000 Lao Kip per draw, roughly 70 EUR. That lasts about a day, transportation, accomodation, food, drinks included. The few hundred dollars we had with us as backup would not have been sufficient at all.
Second: Also we were surprised about the wide-spread use of mobile phones given that a colleague of Nina, who was here two years ago, had said that Laos had no mobile phone network at all.
Wat-Wanderung
First: Premium Nagas, guarding the entrance to Wat Pha Mahathat.
Second: Some sims were decorated with artful paintings telling stories or displaying buddha's life or reincarnations or whatever…
Third: Yet another wat…
First: Roof decoration of a sim. All of them were decorated similarly, and I'm sure it has a meaning. This was one of the nicer ones.
Second: Monks are abundant, simply part of daily life. Many young novices, too. As being a buddhist monk is by no means necessarily a life-time commitment it is quite common for boys to be a novice monk for some time and then return to their families.
First: Morbid street scene. Somehow charming, though a bit unfair: Luang Prabang was a very orderly and clean town. At least as far as we ventured.
Second: Street scene…bikes and tuk tuks were the most common means of transportation. Trucks reserved for commercial transport, and vans mostly for tourists. All in all traffic was low and respectful. Waiting behind an obstacle for a minute or two is a realistic option here, unlike in Vietnam. On the other hand pedestrians need to watch out a bit: Just crossing the street like in Hanoi might cause a hazard; bikes are not necessarily expect you to step on the street and will not automatically curve around you.
First: The stupa of – likely – Wat Visoun.
Second: And its altar.
Phu Si
Phu Si is built atop the major hill of Luang Prabang, overlooking the entire town. Some 300 steps lead uphill. Sunsets are said to be possibly spectacular, though we had not so much luck. Many clouds around, which by themselves looked nice, too, but blocked the sun.
First: On the first steps, an old lady hawker with birds and flowers used for worshipping.
Second: The very top of Phu Si.
Third: One of the views around, south-east Luang Prabang here with the small river Nam Khan, which mouths into the Mekong a few hundred meters further down. The straight strip of concrete on the left-hand side is the runway of Luang Prabang International Airport.
Forth: On the way down some more buddha figures, temples, and altars. Here a beautiful collection of statues, displaying a buddha surrounded by praying monks.
Evening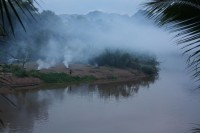 First: Seen on the way home: Farmers on the far side of Nam Khan River burn something (possibly just rubbish), causing a cloud of smoke over the river.
We went back to our guest house for a shower and a change, then selected one of the restaurants along "our" river Nam Khan for dinner. Our second encounter with Lao cuisine (we had a small lunch as well), and again it was not too surprising. Next day we tried once more…but then we must admit did no longer long for it. The soups are actually OK (and the watercress soup is really tasty, though mostly based on water anyway), but the seasoning of the dishes never really pleased our taste. We loved Vietnamese, we love a lot of other Asian cooking styles. But Lao style did not convince us (and we were not the only ones as we learned later from other travellers we met at various restaurants).
Today's Lesson: Laos does have ATMs and a mobile phone network.
Categories: Asia, Luang Prabang
Originally Created: 09/03/2009 06:25:19 AM
Last Edited: 09/03/2009