Finally, finally…the next days are finally scheduled. It is not like I had dreamed of, but after all the failed attempts I have today agreed into a very much guided tour for the next few days. Most of the elements I wanted to have are in there, though not necessarily in the order I had wanted, and also not in the way. But one thing after the other…
I first had called one number I found on the internet. But they couldn't speak English and gave me a non-existing other number to call….
Then I drove a bit around in the city for travel agencies chartered on my map, first stumbling over pure Chinese ones. Then finally found a CITS (China International Travel Service) office, which is not necessarily backpackers first choice, but always last resort. It was just one subway stop away from hotel if going directly. But, damn, they couldn't help me either, but said that the head office down-town definitely could. By the time I arrived there (CITS Head Office, 1 DongDan BeiDaJie 东单北大街, in the glass office to the right of the main tower) the 2 people responsible for Tibet were already out to lunch. Yea….Starbucks coffee break.
At CITS, planning Xi'An and Lhasa
But when I then came back at 1:30 I got very thorough help, which I accepted probably a bit more than I had originally planned. The first greeting, however, was the same as everywhere: "You are travelling alone? Oh…that's expensive." I couldn't hear that any longer and politely but definitely answered, please, let that be my problem. But the man, a Senior Sales Manager, knows very well what he is talking about. Also he pointed out, like all other agencies, that there is no guarantee to get a soft sleeper ticket on the train BeiJing -> Lhasa. There is about a 20% chance. And I couldn't quite figure out what that effectively means, by what time a definite yes/no answer would be available. And they could not at all provide tickets from Xi'An to Lhasa. The few tickets reserved for Xi'An are only sold at the Xi'An train station, so that's pure chance again. I might have time…but I don't usually gamble. So far all the same, so far all difficult.
But he at least then started to point out options, which included Xi'An. I had mentioned Xi'An as I wanted them to sell me the train ticket, which saves me the hassle of going to the train station. And as I knew already that the major sights of Xi'An (including the all-too-famous Terrakotta Army) are actually outside town and difficult to reach I also wanted to hop on a "join-in" coach tour of CITS, which runs daily for as many people as just happen to want them. So CITS was to be involved for Xi'An anyway.
First Lhasa option then was flying from Xi'An to Lhasa and taking the train only on the way back. Also I had noted already that many tour operators including the train on the way to Lhasa, but return by plane. So it is a lot easier to get train tickets for the return way. The nice acclimatisation effect is then certainly gone, but at least I would ride this train.
The second option was to try to get a Beijing-Lhas ticket, but as it would take time I would need to go to Xi'An first and then return to BeiJing. But Xi'An-BeiJing is a 12-hour-train ride. That doesn't sound reasonable if you then hop on the next train, which takes you in 48 hours to Lhasa.
You could certainly fly back from Xi'An to BeiJing, which is an option my Sales Manager had sold recently to another German. But it didn't exactly make the tour more reasonable.
I finally took a deep breath and decided for option number 1: Flying to Lhasa, returning by train, then actually to ChengDu, where I would continue my own travelling.
I knew I had to buy some travel agency services to get the Tibet Travel Permit from the agency. That's fine…let them organize the plane and train tickets, there is no money to safe even for backpackers. Let them show me around in Lhasa for 2 days…that's something I could do on my own…but just to make them happy. But then I wanted to add some hiking, but didn't know details, to be organized in Lhasa only. And here I couldn't get past my Sales Manager…they simply don't let me off the chain…the same as with the first attempt in Shanghai: The agency has to organize your entire trip and has to hand in a complete itinerary with activities for all days to obtain this Travel Permit (which potentially nobody ever wants to see), one day "off" in Lhasa is OK, but not more. Sure, there must be ways to get around it. There are more experienced backpackers, who make it to Lhasa somehow on their own. But as far as I can see there must be some not strictly legal component in their travel to get that far. Even Lonely Planet intermixes a number of warnings in their texts. The recent incident of the 4 demonstrating Americans doesn't makes things simpler either. That is not my kind of game, so I'd rather stick to the rules.
As now all officially travelling people are forced to pre-arranged their plans there is also no chance to hop on any kind of group activity of other groups. It is basically all closed-group travel. And my group has now three persons: me, myself, and I. That's gonna get fun…I'll be taken around Lhasa and a certain supposingly nice lake we added on top (Yamdrop-Tso Lake) by my own private guide…you can imagine that this is not the cheapest part of my journey as certainly also the hotels are pre-arranged. I chose their cheapest hotel offer, but it is not budget category either. All-in-all, transportation, hotels, guides, the Xi'An-Lhasa experience is a good 11,000 RMB. Excluding dinner and other personal matters, but covering no less than 11 days in total with 4 full days of guided tours. That is not cheap, but well bearable for a kind of travel you don't do every other year. That I am willing to pay.
I had him also calculate an additional 3-day excursion from Lhasa to the next big city Shigatse and the Mt. Everst Base Camp (a popular trip), just to see where we end up, but that's another 10,000 RMB on top, without hotels. Well…it might be a one-time chance…but…don't I do anything a bit wrong here? Do I really want to be carried around alone for another 3 days? I opted out…that would have gone a bit far.
We had the itinerary fixed 1.5 hours(!) later. He then wanted to make some calls to ensure train/plane/hotel slots are available and needed to attend to another customer, too. So I left for another 1.5 hour break (tried to get a recent copy of Die Zeit from the Friendship Store, but it was still the same as I had bought earlier) and came back at 16:30. Then I got the train ticket (hurry, hurry, CITS works until 17:00…and employees going with the provided shuttle bus even leave a bit earlier…Mr Dai need to walk over into the main building himself to get the train ticket issued ;)), paid 800 RMB cash as advanced partial payment, and Mr Dai, my Senior Sales Manager, promised to fix up the schedule and send it to me by mail. By the time I arrived back at my hotel the mail was already waiting for me. Great service, very warmly recommended!
The Schedule
So here's my schedule for the next days:
Date|Place|What|Organized by
Sat, 16-JUN|BeiJing|Summer Palace, Fragrant Hills Park|me
Sun, 17-JUN|Greater BeiJing|"Two Valley Walk" north of the Ming tombs, crossing the Great Wall|Beijing Hikers
Mon, 18-JUN|BeiJing|maybe Temple of Heaven…maybe Zoo…we'll see (it turned out to be Lama Temple), 21:24 leave by train for Xi'An|me, CITS
Tue, 19-JUN|Xi'An|08:25 train arrives, rest of day to myself|me
Wed, 20-JUN|Xi'An|Join-in coach tour Terra-cotta Warriors / Big Wild Goose Pagoda / Banpo Relics|CITS
Thu, 21-JUN|Xi'An|day off (Shaanxi Historical Museum)|me
Fri, 22-JUN|Xi'An -> Lhasa|12:20 – 15:00 flight to Lhasa, picked up there, rest of day to myself|CITS
Sat, 23-JUN|Lhasa|Guided tour Drepung Temple / Sere Monastery / Norbulinka Temple|CITS
Sun, 24-JUN|Lhasa|Guided tour Potala Palace / Jokang Temple / Barker Street|CITS
Mon, 25-JUN|Greater Lhasa|Guided tour Yandrok Lake|CITS
Tue, 26-JUN|Lhasa|day off|me
Wed, 27-JUN|Lhasa|day off (this day inserted later due to the ChengDu train not running on Wednesdays)|me
Thu, 28-JUN|leaving Lhasa|10:45 leave by train for ChengDu|CITS
Fri, 29-JUN|on train|…looking out of the window all day…


Sat, 30-JUN|ChengDu|08:25 train arrives, I am free again!|me
BeiJing Duck
To celebrate fixing the schedule I treated myself to BeiJing duck. You have to do it anyway in BeiJing, and I do like BeiJing duck very much. It is by no means new to me, had it the first time in 2004 in BeiJing, afterwards a couple of times in Shanghai. But it stays a very delicious dish. And as a matter of chance one famous (now very touristic) place was close by: QuanJuDe Roast Duck Restaurant, the branch right off WangFuJing DaJie (王府井步行街, the pedestrian shopping street). I tend to go early for dinner (it was 17:30) for 2 reasons: I usually don't have lunch while travelling and, thus, are hungry; it is fairly empty and I don't get into trouble as a single eater getting a table. By the time I left an hour later people were already waiting outside in queues.
I just had half a duck, a soup and some vegetables. I keep wondering what they do with the other half…no, serious: The duck is sliced as a kind of an event right at your table. But certainly they come with a whole duck for this show. I have not seen any other table, which gets its slices from the other side of an already half sliced duck. So where does the other half go…?
Only notable event: An American family of four was seated at the table next to me. They looked up and down the menu, the mother looked a bit like…well…like you would look probably if you only find chicken feet, rat hearts, and dog meet. After 3 minutes of staring they got up and left. The waitresses in the back looked at each other and smiled knowingly.
Hey, what had the Americans expect? Spaghetti with duck meat sauce? Duck sandwiches? Duck Burgers? That's it…Duck Burgers! You can probably earn a lot of money with it…
Maybe the restaurant should consider an English and an American menu. The main dish, BeiJing duck, was certainly mentioned right away on the first page and can stay in both versions. But for the American menu they need to take out the next two pages: Duck feet, duck hearts, duck webs…there is a lot of stuff you can do with duck intestines. Nobody forces you to order it. But just reading about it can probably spoil some peoples appetite.
I mean, sorry, this is the oldest Roasted Duck Restaurant in town. It serves Roasted Duck. You might have read your guide book before finding it (because as a matter of fact the street right in front was under construction, so you don't pass by by chance; if you are there, then you wanted to find it). Well…the Americans chickened out…or should I say, they ducked out? ;))
Chicken right around the corner…there's a KFC…
Flag Parade
Having had a great dinner I needed a walk. And as there is nothing else around I walked westward towards TianAnMen again, hoping to have a chance to sneek into the park on the fare side of the gate. But I couldn't…right when I arrived I saw the usual crowd of people being pushed back by some mystical force and didn't go any further: All people were forced to stop right before TianAnMen. Cars and bikes were allowed to pass, but not pedestrians.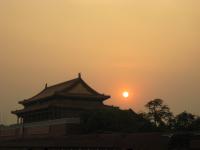 BJ_20070615_190314.jpg: A cool evening shot of TianAnMen. Without the people, which I had cut off intentionally, it looks highly peaceful. Note, that the sun is already very deep down.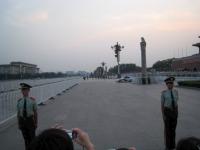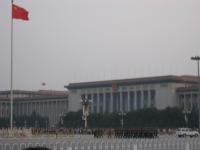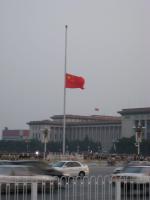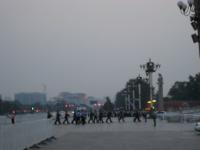 BJ_20070615_194033.jpg: Because that gave me the correct idea: Flag parade due to sunset…but we had to wait for it very long…they really let us pedestrians stand there without any chance to cross for no less than 40 minutes before anything started to happen! The car and bicycle traffic on their separate lanes was only briefly interrupted when the soldiers crossed.
BJ_20070615_194144.jpg: Here half a platoon crosses the street, coming out of TianAnMen, reaching TianAnMen Square, so many soldiers are sent off for the flag parade.
BJ_20070615_194343.jpg: The moment all the effort was for: lowering the flag. Quite honestly…I believe I have seen edges of the flag touching the ground 2 or 3 times…but I was far away. Also, they didn't really try to fold the flag. From the distance it looks more like an artful knot that they made out of the flag.
BJ_20070615_194816.jpg: Anyway…5 minutes later they walked back into TianAnMen with their flag and we were finally let off.
Today's Lesson: Tibet: They don't let you off the chain.
Categories: Asia, BeiJing
Originally Created: 06/15/2007 03:52:47 PM
Last Edited: 06/15/2007